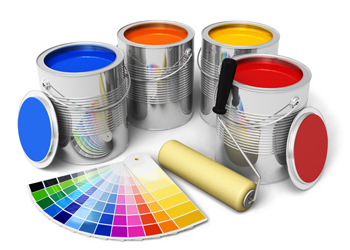 You know you want to repaint your living space, but you're not sure what colour would look the best and work for the long term. Our 5 steps below explain how to decide on a paint colour for your space.
To begin, start with a broad decision and narrow down from there. If you would like to visualize your room in a variety of colours before making any decisions, try this online room colour visualizer by Sherwin Williams.
Decide if you would like a light colour or a dark colour. Light colours expand space and brighten a room while dark colours create a cozy, intimate feeling.
Decide if you would like a warm colour, a cool colour, or a neutral colour. This is often a matter of personal colour preference, but could also depend on how you are using the space and how you want the space to feel.
Narrow your choice on the colour wheel from either the warm colours or the cool colours. Search for a colour theory chart if you would to choose a colour based on its mood associations.
Visit your paint store to pick up some paint chips in various shades of your chosen colour. Bring the paint chips to your space and compare them in that lighting.
Once you have your favourite shades narrowed down to two or three, the best way to find the right one is to purchase sample paint in those shades and paint generous sample applications to your wall, side by side for accurate light comparison. That way you can see how the paint colour looks on your wall, in your lighting.
Deciding on your paint colour can be the hardest part of painting your space. Once you have your paint colour chosen, call us at Benchmark Painting for a no-obligation written quote of our professional painting service—604.803.5041