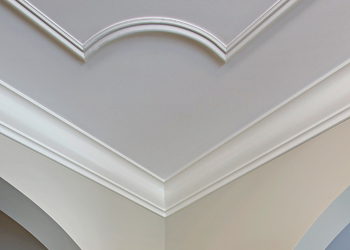 Many modern homes lack character because they don't have finishing touches, such as mouldings, which can enhance the home's architectural features. Mouldings are a great way to add character to your home, and can be a very easy way to make a big impact particularly when you hire a professional to install the moulding.
Baseboards not only cover the seam between the flooring and the wall, they can also transform the look of the space just by changing their size and profile.
Crown mouldings add a feeling of grandeur to a room, as well as making it appear larger by drawing the eye up to the ceiling.
Mouldings can be traditional or modern, and can be applied in creative and custom ways for a unique design. Call Benchmark Painting at 604.803.5041 to get a custom quote for your moulding installation.